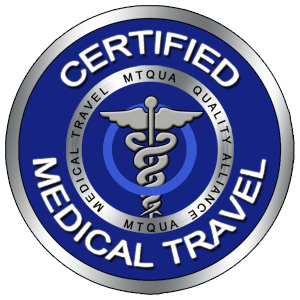 Medical tourism certification is independent third party recognition that the non-medical services of your hospital, clinic or business meet the international standard of excellence for care and services to international patients and medical tourists.
Trusted

By certifying the non-clinical operations, processes and protocols of your hospital, clinic or service, you are declaring to patients around the world that they can trust you to provide the high quality services and care management that promote good results.

Preferred

Insurance providers, assistance companies and referring physicians seek out medical tourism certified businesses to be their "preferred" providers, knowing they can expect their patients and clients to receive a specific high level of care management and services.

Patient-centered

MTQUA certification is not a certification of medical quality. It is patient-centered and guided by principles aimed at ensuring a good outcome for each medical tourist. It complements an organization's medical practices and enhances its ability to provide consistent, world class medical treatment and care management.

International Standard

Consumers and referrers anywhere in the world can easily identify and compare service providers worldwide that have been approved for their quality of treatment and care services against a rigorous international standard.

Best Practice

Certification helps identify the strengths and improve the weaknesses in your operations. Throughout the evaluation process, you receive practical suggestions and useful tools that will enrich the overall patient experience and benchmark your business processes against other medical tourism service providers around the world.
Who is eligible to be certified?
All entities that offer direct-to-consumer medical tourism-related services or support are eligible for certification.
hospitals
clinics
treatment centers
medical tourism companies and facilitators
medical tourism brokers and agents
care management companies
physician practices
alternative health care providers
hotels and resorts with recovery services
travel agencies
emergency services
air and ground transportation companies
What are the benefits of certification by MTQUA?
How to get certified.
Download the Guide to Medical Tourism Certification.