What does certification bring to your medical tourism program?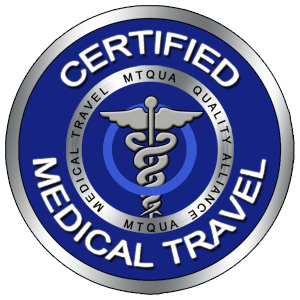 This mark of quality in medical tourism is your declaration that your facility or service meets established criteria for the safety and excellence of an international patient's medical journey.
You show you are committed to achieving excellence and the best quality for medical tourists.

Medical tourism certification by MTQUA demonstrates your dedication to "quality first" and your commitment to producing the best outcome possible for your patients and clients for which the MTQUA brand is recognized around the world.

You have independent third party verification of the quality of your medical tourism program.

Medical tourism certification by MTQUA is a worldwide declaration of independent third party endorsement for your practice or services in medical tourism. MTQUA is not tied to any special interests of health insurers, attorneys or health care management systems.

You meet international standards based on actual experiences of medical tourists and providers.

MTQUA certification standards were four years in the making. The standards committee is led by practitioners with more than thirty years combined practical patient and provider experience: a medical travel facilitator of a leading medical tourism company, a director of hospital international patient departments, and a disciplinary judge with power to take away physicians' right to practice. As expatriates, committee members and their families have had many episodes of medical treatment and care as medical tourists and international patients.

You are trusted by medical tourists and those who refer them.

Patient-doctor relationships, medical tourist and provider relationships are built on trust. This trust is earned when you follow meaningful international care and service protocols that lead to better treatment, better care, and better outcomes.

You are a preferred medical or service provider.

MTQUA certification places your hospital, clinic, practice or service on the "preferred" list of those seeking care or referring patients for care such as international insurance and assistance companies.

You are part of a worldwide network of quality providers and services in medical tourism.

Certification is offered to all providers and services that have a medical tourism program. This includes hospitals, clinics and medical tourism companies. It also includes hotels, travel agents, medical travel insurance providers and others with a like-minded approach to delivering quality in services and care to medical tourists. This network of trusted partners extends the quality of your program and services.
What is medical tourism certification from MTQUA?
How to get certified.
Download the Guide to Medical Tourism Certification.